Paris, 24 September 2013
The Industrial Projects division of international freight forwarder Geodis Wilson secured a new 3-year contract with Caracal Energy Inc. ("Caracal Energy"), an international player in the exploration and development of oil and gas fields.
Caracal Energy has chosen Geodis Wilson as its logistics partner for the exploration of a new resource field in Chad, the company's primary market. The deal includes global freight forwarding activities by air and sea, planning and execution of inland logistics, customs clearance, as well as rail and road transportation through Chad and Cameroon. The contract is worth 34 million Euros, with an option to extend for an additional 2 years.
Philippe Somers, Senior Vice President Industrial Projects, comments: "We are extremely proud that Caracal Energy is placing its trust in us to operate this key business for them. It underlines our capabilities in oil & gas project logistics, which is one of our biggest differentiators in the market." Geodis Wilson serves some of the world's largest oil & gas companies, mostly in markets that are challenging from an infrastructure perspective. "We are known for delivering specialised transport solutions for the energy segment worldwide, as well as for mining companies, the petrochemical industry, infrastructure projects and the rail industry. Our Industrial Projects division is a strategic driver for our future growth," says Kim Pedersen, Executive Vice President at Geodis Wilson.
"Geodis Wilson has performed well over the past 18 months and continues to improve in areas that are particularly important to Caracal. Caracal looks forward to a productive relationship over the next 3 years", commented John Vivian, Director Procurement & Supply Chain at Caracal.
The next shipments related to the exploration project in Chad are taking place in September this year.
– ENDS –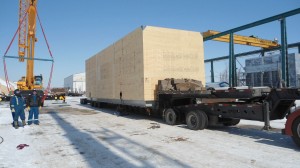 Caption:  A 78000 lbs emulsion treater (Dimensions – 580x156x17 inches), being transported by Geodis Wilson for Caracal Energy from  Edmonton, Canada to Houston, US by land and then ocean to Douala, Cameroon, and then rail/truck to final job site in Chad
Notes to the editor:
About Caracal Energy Inc.
Based in Canada, Caracal Energy Inc. is an international exploration and development company focused on oil and gas exploration, development and production activities in the Republic of Chad, Africa. In 2011, the Company acquired three production sharing contracts ("PSCs") from the government of the Republic of Chad. These PSCs provide exclusive rights to explore and develop reserves and resources in southern Chad. The PSCs cover two world-class oil basins with development opportunity, oil discoveries, and numerous exploration prospects.
For more information please visit:  www.caracalenergy.com
About Geodis
Geodis: a transport and logistics expert
A logistics provider and wholly-owned subsidiary of SNCF Group, Geodis is a European company with a worldwide scope, ranking number four in its field in Europe. The Group's ability to break through the constraints of logistics and to coordinate all or part of the logistics chain (air and sea freight forwarding, groupage, express, contract logistics, transport of part and full truck loads, reverse logistics, supply chain coordination and optimisation) enables it to be its customers' growth partner and provide them with solutions tailored to optimising their material and information flows. Across a presence in 66 countries, the Group's 32,100 employees aim at continuously improving their own and their clients' performance. Geodis reported revenues of €7.1 billion in 2012.
Geodis Wilson is the freight forwarding division of Geodis Group. Its core business is tailor-made airfreight and ocean freight solutions with a dedicated industry focus. In combination with value-added services and information services Geodis Wilson provides transport and logistics services on a global scale and helps its clients to enhance their business development worldwide.
For more information please visit: