Hof/Kempten, 27 January, 2020 – Logistics provider Dachser is stepping up its contract logistics activities in the Upper Franconia region of Germany and moving into a new warehouse in the town of Hof. The warehouse will provide space for around 39,000 pallets and have 47 docking bays. Construction is expected to be completed by fall 2020.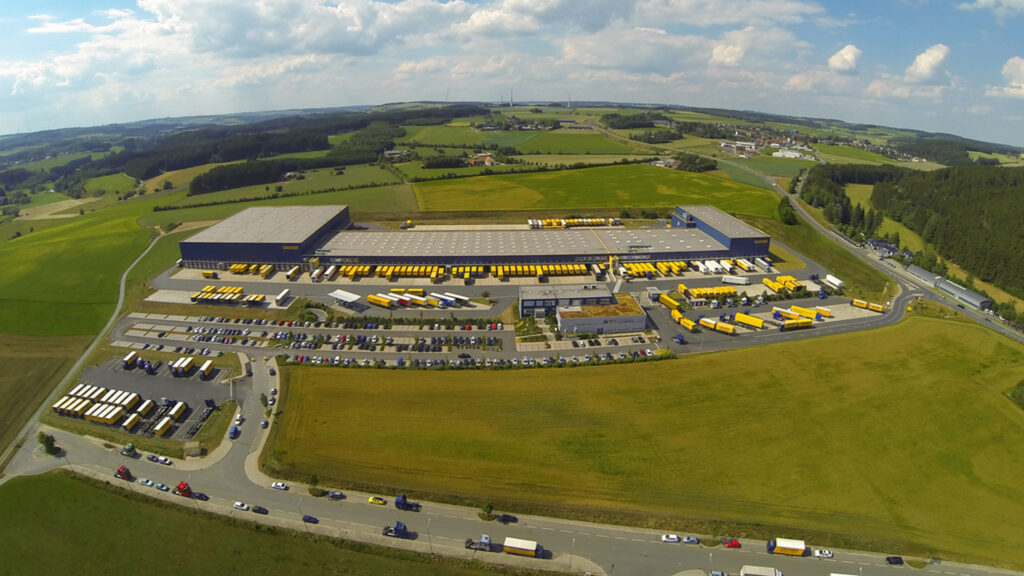 The expansion also includes offices and communal areas covering a total area of 900 square meters. "Our new multi-user warehouse next to the existing logistics center will offer space for us to provide contract logistics services for a medium-sized customer from the DIY and gardening sector for example," says Klaus Neubing, General Manager of the Hof logistics center, about the expansion of business at the location. The contract logistics services that Dachser offers in Hof combine transport solutions and warehousing with comprehensive value-added services such as picking and packaging. Following the expansion, Dachser will employ some 500 people in the town. In addition, around 300 people work regularly for Dachser through the independent transport companies or, for example, as seasonal workers.
Pan-European project developer and logistics specialist Verdion carries oit the construction work, and Dachser will be able to move into the building in fall 2020. "This expansion marks the next important step in our work with one of our major DIY customers in the region," says Alexander Tonn, Managing Director European Logistics Germany, who is responsible for Dachser's industrial goods business in Germany. "Together, we're putting in place a sustainable, growth-oriented logistics concept in Hof."
From a geographic perspective, Hof's central location in Europe is perfect for the logistics center, since all the relevant European destinations and economic centers are within easy reach. Dachser's logistics center in Nuremberg connects the Hof branch to the company's worldwide air and sea freight network.
30 years in Upper Franconia
Dachser has been operating in Germany's Upper Franconia region for over 30 years. Today's logistics center, located on the outskirts of Hof since 2008, offers a 13,800-square-meter transit terminal and 11,800 square meters of warehouse space with 35,000 high-bay pallet spaces. This capacity has made the logistics provider a long-standing warehousing and transport partner in the region for customers from the industrial goods and food sectors.
"Hof is becoming an increasingly important logistics hub, and this expansion marks another step in this growth. Our town is proud to be home to a global company like Dachser. This expansion of the Hof branch means the company will provide a total of around 500 jobs, making it one of our largest local employers," says Hof's Mayor Dr. Harald Fichtner. "I'd like to take this opportunity to say thanks for the strong role you play in the community, including your valuable contribution to the Upper Franconia Logistics Agency. I wish the expansion project and the company every success!"
About Dachser:
A family-owned company headquartered in Kempten, Germany, Dachser offers transport logistics, warehousing, and customer-specific services in two business fields: Dachser Air & Sea Logistics and Dachser Road Logistics. The latter consists of two business lines: Dachser European Logistics and Dachser Food Logistics. Comprehensive contract logistics services and industry-specific solutions round out the company's range. A seamless shipping network—both in Europe and overseas—and fully integrated IT systems ensure intelligent logistics solutions worldwide.
Thanks to some 30,600 employees at 399 locations all over the globe, Dachser generated consolidated net revenue of approximately EUR 5.6 billion in 2018. That same year, the logistics provider handled a total of 83.7 million shipments weighing 41.3 million metric tons. Country organizations represent Dachser in 44 countries.
For more information about Dachser, please visit www.dachser.com