New logistics centre combines local branch office Bratislava and central logistics hub for central and eastern Europe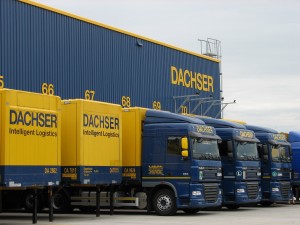 Kempten/Bratislava, 21 June 2011. With its new Eurohub Bratislava, Dachser opened a cornerstone of its European overland transport network. The logistics intersection for central and eastern Europe shares the 64,000-square-metre site with the local Dachser branch office.
The new logistics centre accommodates a 3,565-square-metre cross dock for industrial goods which allows for simultaneous loading and unloading of 31 trucks. An office building with 1,800 square metres of usable floor space has also been built. In a second building phase, a warehouse with 13,500 pallet spaces will be added.
In a first step, the second Eurohub within the Dachser overland transport network links 14 countries via 19 daily scheduled services and is also directly connected to the Eurohub in Überherrn, Germany. In late summer 2011, Dachser's third European hub in Clermont-Ferrand, France, will also join the network.
At a ceremony, Dachser managing director Michael Schilling presented the Slovakian country manager Roman Stoličný with a tree as a symbol for the growth of the Dachser network and the Slovakian country organization. The ceremony was attended by numerous guests from the fields of politics and business, as well as professional associations.
"Growth is not an end in itself, but should always be geared to the benefit of our customers," Michael Schilling, managing director European Network Management & Logistics Systems at Dachser points out. "The success of our joint venture in Slovakia underscores this principle. The very positive development over the past seven years is due to the commitment and market knowledge of our partner Mr. Engelbert Liegl. Together with his team he developed the Slowakian country organization into a pillar of the European Dachser network."
"In only nine months, we have built a future-oriented logistics facility in Lozorno that meets today's modern standards", comments Roman Stoličný, European Logistics country manager for Dachser in Slovakia. "This also paves the way for the future growth of the Slovakian country organization."
In 2010, Dachser generated total revenue of EUR 3.8 billion. 19,250 staff working in 310 profit centres worldwide handled 46.2 million consignments weighing a total of 35.5 million tonnes. www.dachser.com
The enclosed press backgrounder gives you more facts and figures about the Eurohub and the Bratislava branch office.