We are pleased to announce that construction of a Cold Storage Warehouse in Ho Chi Minh City, Vietnam, by CLK COLD STORAGE COMPANY LIMITED – a joint-venture established by Kawasaki Kisen Kaisha, Ltd. ("K" Line), Cool Japan Fund Inc. ("Cool Japan") and Japan Logistic Systems Cor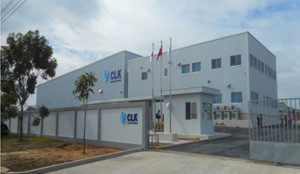 p. ("Japan Logistic Systems") – has been completed with Opening Ceremony held on July 21, after which operations start.
Persons involved in the project, including Mr. Tran Thanh Liem, Chairman of Binh Duong Province, Vietnam, Mr. Satoshi Nakajima, Council General of Japan in Ho Chi Ming City, Mr. Eiichiro Nakanishi (Chairman) and Mr. Hirotake Nakanishi (President) of Japan Logistic Systems Corp., Mr. Nobuo Sugiuchi (Senior Managing Director) of Cool Japan, as well as parties concerned, joined Eizo Murakami, President & CEO of "K" Line, at the completion ceremony.
Warehouse location
About 22 km from central Ho Chi Minh City (about one hour via Route 1). Good access from Cat Lai Port and the international airport.
Warehouse features
As a Cold Storage project based on an all-Japan set-up, this was the first time in Vietnam for both the "hard" and "soft" aspects, from design and construction to cooling equipment and operation of the warehouse, to be led entirely by Japanese companies. Various protective measures for goods as well as energy-saving measures have been taken based on the know-how accumulated by Bangkok Cold Storage Ltd, member of the "K" Line Group, which has been operating Cold Storage services in Bangkok, Thailand since 1989, to safely and hygienically store the precious merchandise of our customers. In consideration of environmental conservation, natural refrigerants (NH3 and CO2) have been adopted.  The temperature can be controlled to address the various needs of customers from −50°C to +25°C.  This is the first facility to provide super frozen storage room in Vietnam.
We will continue to contribute to the promotion of Japanese foods and ingredients in Vietnam, which is expected to grow even further in the future, using the knowledge and network of Japan Logistic Systems, which has been operating in Vietnam for over 20 years, and "K" Line group's marine and air transport services.
Outline of joint venture and freezing and refrigerating warehouse
1. Name
CLK COLD STORAGE CO., LTD
2. Address
Binh Duong Province, Vietnam
3. Representative
Naoki Sakai
4. Business details
Cold Storage Warehouse and Related Services
5. Capital
US $15 million
6. Date of foundation
April 25, 2015
7. Start of business
July 7, 2016
8. Investment ratio
"K" Line                                   25.0%Japan Logistic Systems               26.0%

Cool Japan                                49.0%

9. Access
About 22 km from central Ho Chi Minh City; about 25 km from Cat Lai Port
10. Area
Land: approx. 19,000 m2Total floor space: approx. 7,000 m2
11. Structure, etc.
One-story warehouse divided into 13 rooms
12. Temperature range
Super Frozen: −50°C; Frozen: −25°C ~ −18°CChilled: −5°C ~ +5°C; Low: 0°C ~ +15°C

Constant: +5°C ~ +25°C

13. Other
17 dock shelters, 4 dock levelers, emergency power generator, advanced thermal insulation equipment, temperature/atmospheric pressure control within the warehouse, and external air infiltration-suppression functions, 24-hour security system with security guards, pest-proofing measures, etc.
Under our medium-term management plan, "Value for our Next Century -Action for the Future -" which is "K" Line's management strategy for our 100th anniversary in 2019, we have complemented our highly volatile marine shipping services, and positioned logistics business as a sector for steady income. We will continue to expand our logistics business, especially in Southeast Asia, where economic growth has been remarkable.