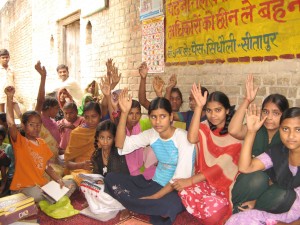 Dachser and terre des hommes take stock
Kempten, April 2011. The joint aid project supported by Dachser and terre des hommes can boast impressive results. The balance after five years of common effort: the goals have not only been reached, but also surpassed many times over. 
When Dachser and the children's relief organization launched their education campaign in Uttar Pradesh in 2005, the goal was to
offer schooling to 7,000 children,
provide teaching materials and sanitary facilities for 25 schools,
build 2 learning centres and
prepare 1,500 pupils for the job market.
Dachser has sponsored the project with 100,000 euros a year for 5 years.
The latest report published by terre des hommes in India reveals that not only have the local project partners successfully met these goals, they have in fact achieved far more. According to the report, between 2005 and 2010 more than 11,000 children received a school education thanks to the aid project; around 3,300 of these went on to study and 2,500 successfully completed vocational training.
Instead of two, as many as seven educational and vocational centres have been set up within the past five years; at the same time classrooms have been set up and drinking fountains and toilets installed in 43 state schools.
"These successes reflect the special character of the aid project: it is not about the rich supporting the poor, but about helping people to help themselves. This enables the villagers to become more self-reliant and secure their own future over the long term," explains Bernhard Simon, spokesman for the Dachser management.
In order to ensure that the villagers continue to take advantage of education as a means to becoming self-reliant Dachser has decided to continue supporting the project. In October, phase 2 of the project was launched. George Chira, project coordinator of terre des hommes in South Asia, says: "We are delighted that with Dachser's continued support we will be able to consolidate the results achieved so far and promote environmental awareness in the region."