Donation for Restoration of World's Oldest Railway Station – Mainly from Participation Cost of Guided Vessel Tour –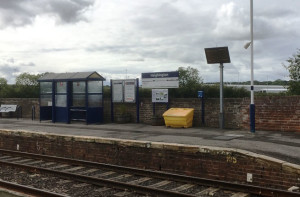 Kawasaki Kisen Kaisha, Ltd. ("K" LINE) recently gave a donation to Newton Aycliff plant of Hitachi Rail Europe, Ltd (HRE) for the restoration work of Heighington Station, County Durham in the UK – the world's oldest railway station. The amount of the donation totalled 450,000 Yen and was made in conjunction with Hitachi Transport System Ltd. (HTS), Tokuyama Central Rotary Club, Boy Scout Federation of Yamaguchi Prefecture and Kudamatsu Shogyo Kaihatsu Ltd. (KSK)
To raise funds, "K" Line arranged a guided tour of M/V GLOBAL HIGHWAY, one of their largest RORO vessels, held at Tokuyama/Kudamatsu Port in Japan on March 20, 2017, and invited citizens of Kudamatsu City, Yamaguchi Prefecture. A total of 209 people, mainly elementary school children and members of the Boy Scout Federation and Rotary Club, participated in the tour. The donation of 450,000 Yen consisted of participation cost collected from each participant on the tour, plus donations from three private companies, namely "K" LINE, HTS and KSK, as sponsors of the event.
Kasado Works of Railway Systems Business Unit of Hitachi, Ltd. in Kudamatsu City, is a manufacturing plant of high-speed rail cars.  The rail cars are exported to the UK on one of "K" Line's large RORO vessels which calls at Tokuyama/Kudamatsu Port once a month to transport the rail cars. The RORO vessels have drawn great interest from citizens of Kudamatsu City due to their huge size and brilliant design.   Several tours have been held on board these vessels showing how the rail cars are loaded on to the vessels at the local port.  It is felt that these types of event contribute to the local community and they have been well supported.
Heighington Railway Station lies on the route of the Stockton and Darlington Railway, the world's first passenger railway line. The station's historical claim to fame is that the first train on that line, the Locomotion No.1, was assembled here in 1825 before starting on its first journey. The station is located very close to Hitachi's Newton Aycliffe rail vehicle manufacturing facility. Employees from the facility are volunteering to help with the restoration project of the station, which is old and in need of repair.  "K" Line decided to support this meaningful project because it connects the past to the present with the rail cars that they are now transporting.