Amsterdam – December 5th 2014
Menlo Logistics, (Menlo), the global logistics and supply chain management unit of Con-way Inc. (NYSE: CNW) is emphasising the specialised nature of the Medical Device (Medtech) supply chain in Europe.  Menlo is particularly keen to outline the particular skills and capabilities required by a 3PL to manage the unique requirements of medical device manufacturers and the hospitals and health systems that make up the majority of consumers.
A detailed review of the sector, including consultation with a number of leading global suppliers in the sector, has lead Menlo to conclude that five key attributes of a 3PL/supply chain service provider are essential to deliver an effective service.
Speaking at the Life Sciences Supply Chain Summit in Amsterdam yesterday, Arthur van Gerven, Menlo's Senior Director of Business Development in Europe said, "We are finding that the introduction of a centralised warehousing and distribution model, replacing national level networks, is being increasingly employed in Europe by medical device manufacturers; the process is most often assisted by a 3PL with global capabilities."
During a panel session which included leading suppliers supporting his view, van Gerven continued, "However, once the 'big picture' re-engineering of a complex supply chain has been completed, the incumbent 3PL must have the necessary skills and capabilities to continue the job within the re-aligned infrastructure."
The five key attributes that Menlo believes are essential to fulfil customer expectations in the medical device sector are outlined in the diagram below.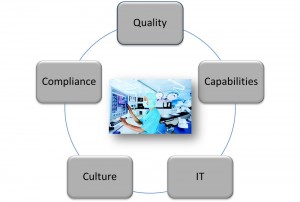 Menlo is at pains to stress that a commonality of culture is the dominant factor in the mix. "You need the right culture, a shared mindset between people in both organisations to implement a structured and continuous improvement process," said van Gerven at the Summit.  Menlo's own solution to this need is to employ the Lean concept, applying the well-established waste-reduction technique to logistics.  "While this shared culture is the most difficult of the five to achieve, it is the most important, as it is also the driver of quality," he emphasised.  The other three elements, while critical, are easier for a 3PL to put in place.
In addition, van Gerven's Amsterdam comments drew on the contents of a soon to be published White Paper by Menlo entitled 'Rationalising the Medical Device Supply Chain'*.  The five key 3PL attributes are described in detail within the White Paper along with results of other research into the European Medical Device market, estimated to be worth €100 billion.  The sector employs 575,000 people, working for around 23,000 companies, 95% of which are SMEs (Small and Medium-sized Enterprises).
The aim of the White Paper is to summarise the current challenges to producers, suppliers and consumers in optimising their supply chains and contains examples of how the players, including their logistics service providers, are responding in order to design supply networks and work processes that are more refined, efficient, effective and environmentally friendly.
*Pre-publication advanced copies of the White Paper are available for review by the media on request
ENDS
About Menlo Logistics Europe
In Europe, Menlo Logistics maintains seventeen dedicated and multi-client logistics centres located in the Netherlands, Belgium, Czech Republic, Germany and the United Kingdom. This warehouse network can serve as pan-European distribution solution using one or several facilities.
Supply chain and transport management solutions as well as 3PL, warehousing and distribution services are offered to a variety of vertical industry sectors including: lifestyle, fashion & apparel; healthcare and medtech; e-fulfillment and e-returns; manufacturing support; data center logistics; spare parts and aftermarket supply and high tech. The European headquarters is at the multi-client Amsterdam Distribution Centre in the Netherlands. www.menlologistics.com/europe
Follow Menlo on Twitter: http://twitter.com/MenloLogistics
Menlo Logistics, LLC, is a US$1.5 billion global provider of logistics, transportation management and supply chain services with operations in five continents, including North America. As a third-party logistics provider, San Francisco, California-based Menlo Logistics' services range from dedicated contract logistics to warehouse and distribution management, transportation management, supply chain reengineering and other value-added services including packaging, kitting, order fulfilment and light assembly through a strategic network of multi-client and dedicated facilities.
With nearly 20 million square feet of dedicated warehouse space in North America, the Asia Pacific, Europe and Latin America, and industry-leading technologies, Menlo Logistics creates effective, integrated solutions for the transportation and distribution needs of leading businesses around the world. Menlo Logistics, LLC, is a subsidiary of Con-way Inc. (NYSE: CNW), a $5.5 billion diversified freight transportation and logistics company.