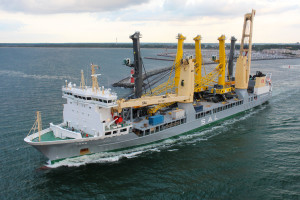 SAL Heavy Lift vessel, MV Lone has entered the record books by achieving a 20 day transit between Batum in Indonesia and the Firth of Forth in Scotland. The 12,500DWT specialised heavy-lift ship completed the 8,733 nautical mile voyage at an average speed of 19.3 knots on the 16th May.
Hamburg, 26 July 2016
For SAL Heavy Lift, the Hamburg-based ship owner and operator, crafting well engineered transport solutions for cargoes that are too heavy, out-of-gauge or of such awkward dimensions that conventional forms of shipping are impossible, is its usual speciality. But sometimes it's out and out speed that gets the job done.
An average speed of 19.3 knots, 22.2 mph or 35.7 kph in land speed terms, sustained over such a long distance is a considerable achievement and for a specially equipped vessel like MV Lone, it's a record. The vessel, built in 2011 at J J Sietas' yard in Hamburg, is 12,500DWT has an LOA of 160 metres and a beam 28 metres*.
In the case of this voyage, the cargo, a Submerged Turret Production (STP) buoy weighing eleven hundred tons, had a tight delivery schedule of three weeks. It was destined for an off-shore location some miles from the East Coast of Scotland and was required on site so as not to delay the start of a drilling project.
SAL made available MV Lone, one of the largest vessels in its fleet of fourteen multi-purpose heavy-lift units, which are deployed on both regular semi-liner services around the world and have availability to service one-off projects. The in-house engineering team were engaged to design the logistical side of the operation but it was left to the MV Lone and her crew to plot a safe course and to attain the maximum speed across the Indian Ocean, through the Suez Canal to North Europe via the Mediterranean.
Commenting on the record-breaking run, Matthias Meyer, SAL's Project Manager said, "A journey of nearly nine thousand nautical miles is not quite halfway around the world but it is not far short. To maintain this sort of average speed through all weathers is an impressive feat of seamanship and we are proud of the officers and crew of Lone for making this possible."
Although SAL's fleet of vessels have unrivalled speed and carrying capacity that rank among the largest of their type, it is the company's ability to meet the requirements of the most challenging and complex of cargo moves that maintains its long-standing reputation for reliability and on-time delivery.
ENDS
Notes for Editors:
*Full particulars of MV Lone can be found here
sal-heavylift.com/uploads/tx_salext/download/Ships_Particulars_Type_183_DP2_2016.pdf
About SAL Heavy Lift
SAL Heavy Lift, a member of the "K" Line Group, is one of the world's leading carriers specialized in sea transport of heavy lift and project cargo. The company was founded in 1980 as "Schiffahrtskontor Altes Land GmbH & Co. KG" and belongs to "K" Line Group since 2011. The modern fleet of 14 heavy lift vessels offers highly flexible options to customers. The vessels of SAL Heavy Lift boast an impressive travel speed of 20 knots, up to 3500 square metros of unobstructed main deck space and combined crane capacities ranging from 550 to 2000 tons: amongst the world's highest lifting capacity in the heavy lift sector. As a leading global company in the heavy lift and project cargo segment, the company meets the highest standards with regard to quality, technical innovation and health, safety and environment.