Kempten, March 16, 2018. The European Food Network is creating a new connection to Scandinavia and enhancing the European shipping network for fo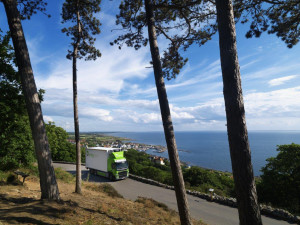 od products. Bring Frigo, the Scandinavian market leader for food logistics, is now a forwarding agent for Norway, Sweden, and Finland.
Since the beginning of the year, transit times on the daily routes to Norway and Sweden in particular have become one day shorter on average. From the Hamburg platform, groupage shipments now regularly need just two to four days to reach Norway and one to three days to Sweden.
"Thanks to Bring Frigo, our customers will benefit from even better distribution performance in European markets," says Alfred Miller, Managing Director Dachser Food Logistics. "With its high quality standards and close-knit network of locations in Scandinavia, the company greatly enhances the European Food Network."
Bring Frigo is BRC-certified, employs 960 people at more than 30 locations across Scandinavia, and has over 1,100,000 cubic meters of storage area. Its fleet numbers some 1,300 vehicles that are classified for food transport.
With 13 partners, 11 forwarding agents, and regular scheduled services between 34 countries, the European Food Network is Europe's most comprehensive network for food transport. This cooperation was founded in 2013 under the system leadership of Dachser.
About Dachser:
A family-owned company headquartered in Kempten, Germany, Dachser is a leading supplier of logistics services worldwide.
Dachser offers comprehensive transport logistics, warehousing, and customer-specific services in two business fields: Dachser Air & Sea Logistics and Dachser Road Logistics. The latter consists of two business lines: Dachser European Logistics and Dachser Food Logistics. Comprehensive contract-logistics services and industry-specific solutions round out the company's offerings. A seamless shipping network—both in Europe and overseas—and fully integrated IT systems ensure intelligent logistics solutions worldwide.
Thanks to some 27,450 employees at 409 locations all over the globe, Dachser generated revenue of 5.71 billion euros in 2016. That same year, the logistics provider handled a total of 80 million shipments weighing 38.2 million metric tons. Country organizations represent Dachser in 43 countries.
For more information about Dachser, please visit www.dachser.com