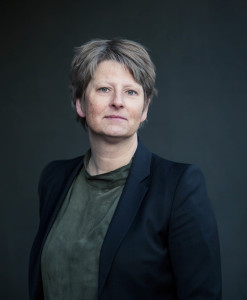 GEODIS is pleased to announce the appointment of Ursula Breull as new National Sales Manager for GEODIS Freight Forwarding Denmark. Based in Kastrup , Copenhagen, she will lead the national business development activities and teams, with the goal of effectively driving business development performance forward to meet high growth targets.
After a first cooperation with GEODIS from 2006 to 2010, Ursula Breull joined the company in 2015. Ursula has played an important part in her positions in driving key strategies for business development in the organization. Prior to joining GEODIS, she held positions at leading transport and logistics companies.
Ursula comments: "As National Sales Manager with more than 20 years of experience in logistics and development of strategic and global accounts, I will lead the sales department with passion and determination to achieve the ambitious goals of GEODIS Freight Forwarding in Denmark. Working for GEODIS gives me the best platform to foster innovative and long-lasting partnerships based on trust, and to help our clients overcome logistical constraints."
Gitte Hjortflod, Managing Director, welcomes the appointment: "Ursula, with her many years in the freight forwarding business and her educational background in the same, has contributed significantly to the company's success in winning top-targeted strategic customers. I am happy that we are able to fill this new position with one of the most experienced professionals in our own team."
URSULA BREULL NY SALGSCHEF FOR GEODIS FREIGHT FORWARDING DANMARK
Vi i GEODIS er glade for at kunne præsentere Ursula Breull som ny salgschef hos GEODIS Freight Forwarding Danmark. Med base i Kastrup, København, vil hun stå i spidsen for salgsorganisationen og dens aktiviteter, for effektivt at styrke forretningsudviklingen og
indfri vores høje vækstmål.
Ursula har arbejdet for GEODIS i 2006 til 2010 og igen fra 2015. Hun kommer med erfaring fra ledende virksomheder på det internationale logistikmarked, og hun har allerede spillet en vigtig rolle for GEODIS' strategiske forretningsudvikling.
"Med mere end 20 års erfaring inden for logistik med udvikling af strategiske og globale kunder, vil jeg med stor passion lede salgsorganisationen mod indfrielse af de ambitiøse mål, man har sat hos GEODIS Freight Forwarding Danmark", fortæller Ursula og fortsætter: "At arbejde for GEODIS giver mig de bedste muligheder for at danne tillidsbaserede, langvarige og innovative partnerskaber og derigennem bistå vores kunder med at overvinde logistiske udfordringer."
Administrerende direktør Gitte Hjortflod hilser forfremmelsen velkommen: "Ursula har med sine mange års erfaring og sin uddannelsesmæssige baggrund bidraget betydeligt til den succes, vi har hos vores kunder. Det glæder mig, at vi nu skal se en af vores mest erfarne professionelle på posten".
GEODIS – www.geodis.com
GEODIS is a top-rated, leading global supply chain operator recognized for its passion and commitment to helping clients overcome their logistical constraints, undisputed leader in France, ranking #4 in Europe and #7 worldwide. GEODIS' growth-focused offerings (Supply Chain Optimization, Freight Forwarding, Contract Logistics, Distribution & Express, and Road Transport) coupled with the company's historical success has led to wide-spread recognition including being ranked as a "Leader" in Gartner's "Magic Quadrant for 3PLs Worldwide".
Currently GEODIS has over 40,500 employees, a direct presence in 67 countries, and a global network spanning 120 countries. GEODIS' parent company, SNCF Logistics, is a division of the SNCF group (the French National Railway Corporation).  In 2017, GEODIS generated €8.1 billion in sales, and continues to position itself for global growth.