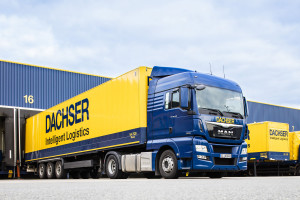 Freiburg/Kempten, April 4, 2018. Dachser has acquired some 65,000 m2 of real estate in the Breisgau industrial park in Eschbach, a town near Freiburg, Germany. In August 2018, the logistics provider will start construction on a new logistics center, which will include a transit terminal with a total area of 6,117 m2 and 82 docking bays, plus a two-story office building. Completion of construction and the subsequent move are planned for mid-2019. 
The new logistics center will replace the current branch in Freiburg-Hochdorf, which has served as the Dachser groupage hub for southwest Germany and Alsace, France since 1989. "As a logistics partner, we have grown with the local economy year by year, and now we have to add more capacity in anticipation of future growth," explains Michael Gaudlitz, General Manager of Dachser's Freiburg branch.
Currently, the 150 employees at the Freiburg branch move 225,000 metric tons of goods each year. The new location southwest of Freiburg is situated directly on the A5 highway, with excellent connections to three countries: Germany, France, and Switzerland. This new facility will create ideal operating conditions and also offers opportunities for expansion in the future. Dachser is investing a total of about EUR 22 million in the construction project, and expects to create 30 new jobs.
"Germany's economy is going full steam ahead, and we see that reflected in the capacity utilization of our network," says Alexander Tonn, Managing Director, European Logistics Germany at Dachser. "Now we have to take action with an eye to the future, and—as we did in Freiburg—invest in new capacity before the need becomes acute. This is the only way we can continue to offer our customers the high standard of quality they expect from Dachser as their logistics partner."
About Dachser:
A family-owned company headquartered in Kempten, Germany, Dachser is a leading supplier of logistics services worldwide.
Dachser offers comprehensive transport logistics, warehousing, and customer-specific services in two business fields: Dachser Air & Sea Logistics and Dachser Road Logistics. The latter consists of two business lines: Dachser European Logistics and Dachser Food Logistics. Comprehensive contract-logistics services and industry-specific solutions round out the company's offerings. A seamless shipping network—both in Europe and overseas—and fully integrated IT systems ensure intelligent logistics solutions worldwide.
Thanks to some 27,450 employees at 409 locations all over the globe, Dachser generated revenue of 5.71 billion euros in 2016. That same year, the logistics provider handled a total of 80 million shipments weighing 38.2 million metric tons. Country organizations represent Dachser in 43 countries.