Kempten, June 4, 2018. As the groupage leader in the German and European markets, Dachser operates a close-knit overland transport network. But the logistics provider's closely integrated groupage network extends to sea freight, too. In 2018, 26 new LCL (less than container load) connections will be launched. For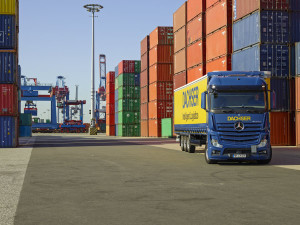 six of its existing services, Dachser is increasing the frequency of departures from every two weeks to every week.
The appeal of LCL services comes down to timing: by coordinating the grouping of goods and the timing of fixed container trips between ports, customers benefit from improved planning, transit times, and transparency for their shipments. For example, shipments between Bangalore and Hamburg have a transit time of 22 days.
To date, Dachser has added the following fixed routes to its LCL groupage transports: weekly LCL services from Bremen to new destinations in the US (Los Angeles, New York, Chicago, Boston, Houston, Atlanta, and Charlotte); from Hamburg to India (Nhava Sheva and Chennai); and from Hamburg to New Delhi as of June 1. In the other direction, there are connections from Chennai and Nhava Sheva to Hamburg, which have been supplemented by connections from New Delhi and Bangalore to Hamburg. Another new connection is the weekly route from Shanghai in China to Santos in Brazil. And out of Antwerp, Dachser will run routes to Hong Kong, Veracruz, Singapore, Busan, and Nhava Sheva.
"Customers taking advantage of our LCL services benefit from attractive transit times, faster availability of goods at the city of destination, greater flexibility, and precise supply chain planning thanks to container management and direct sea connections," says Günther Laumann, Head of Global Ocean Freight at Dachser.
Dachser sees great potential in expanding its sea freight network for Dachser Interlocking: thanks to the close collaboration between Dachser Air & Sea Logistics and Dachser European Logistics, the company can offer its customers fully integrated logistics solutions comprising transport, warehousing, and value-added services. Dachser handles pre-carriage through its comprehensive European network and is passing the benefits of grouping shipments on to its customers. Shipments can be tracked continuously from the supplier in Europe to a recipient anywhere in the world.
ENDS
About Dachser:
A family-owned company headquartered in Kempten, Germany, Dachser offers transport logistics, warehousing, and customer-specific services in two business fields: Dachser Air & Sea Logistics and Dachser Road Logistics. The latter consists of two business lines: Dachser European Logistics and Dachser Food Logistics. Comprehensive contract-logistics services and industry-specific solutions round out the company's offerings. A seamless shipping network—both in Europe and overseas—and fully integrated IT systems ensure intelligent logistics solutions worldwide.
Thanks to some 29,100 employees at 396 locations all over the globe, Dachser generated revenue of 6.12 billion euros in 2017. That same year, the logistics provider handled a total of 81.7 million shipments weighing 39.8 million metric tons. Country organizations represent Dachser in 44 countries.
For more information about Dachser, please visit www.dachser.com