A charity initiative by insurance services company Thomas Miller ( Americas) Inc has very nearly broken the half a million dollars barrier in funds raised for the Breast Cancer Resea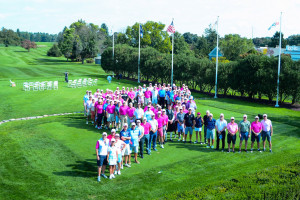 rch Foundation over the last three years, thanks to the 'Play for Pink' Golf Day held last month. A total of 112 players representing companies throughout the US maritime and insurance community and also from Venezuela and Panama participated at the Forsgate Country Club in New Jersey.
This was a corporate golf day with a difference and thanks to the generosity of the hosts, sponsors and guests, it will make a real difference in the fight against breast cancer. $206,000 was raised to add to the 'Play for Pink' donations from the last two years in order to reach a total of just under $500,000.
Thomas Miller is the manager of shipping and transport insurance mutuals, UK P&I Club and TT Club. Mike Jarrett, president of Thomas Miller (Americas) Inc thanked all the participants, "The commitment of the UK P&I and TT Club members as well brokers, attorneys and industry consultants in supporting our fund-raising efforts is astonishing. I'm proud to be able to bring together the maritime community in the US to help research into the eradication of breast cancer; a blight that has touched us all either directly or indirectly".
Among the organisations participating (many representatives of which are highlighted in the accompanying images) were:
Royal Caribbean Cruises
Disney Cruise Line
Bouchard
Harley Marine
Phoenix Bulk
Seaboard Marine
US Shipping
Dunlap Towing
Mediterranean Shipping (MSC)
Chembulk Tankers
AP Moller-Maersk
Diamond S Shipping
OEC Group
Atlantic Container Line (ACL)
Thomas Miller Americas considers itself dedicated to this cause and its fundraising efforts will be on-going. Organization of each event and recruiting of sponsors begins in May each year and the 2019 Play for Pink Golf Day is already on the calendar for 1st October. "The maritime community in this part of the world is as altruistic as any industry group," comments Jarrett, "And we look fo