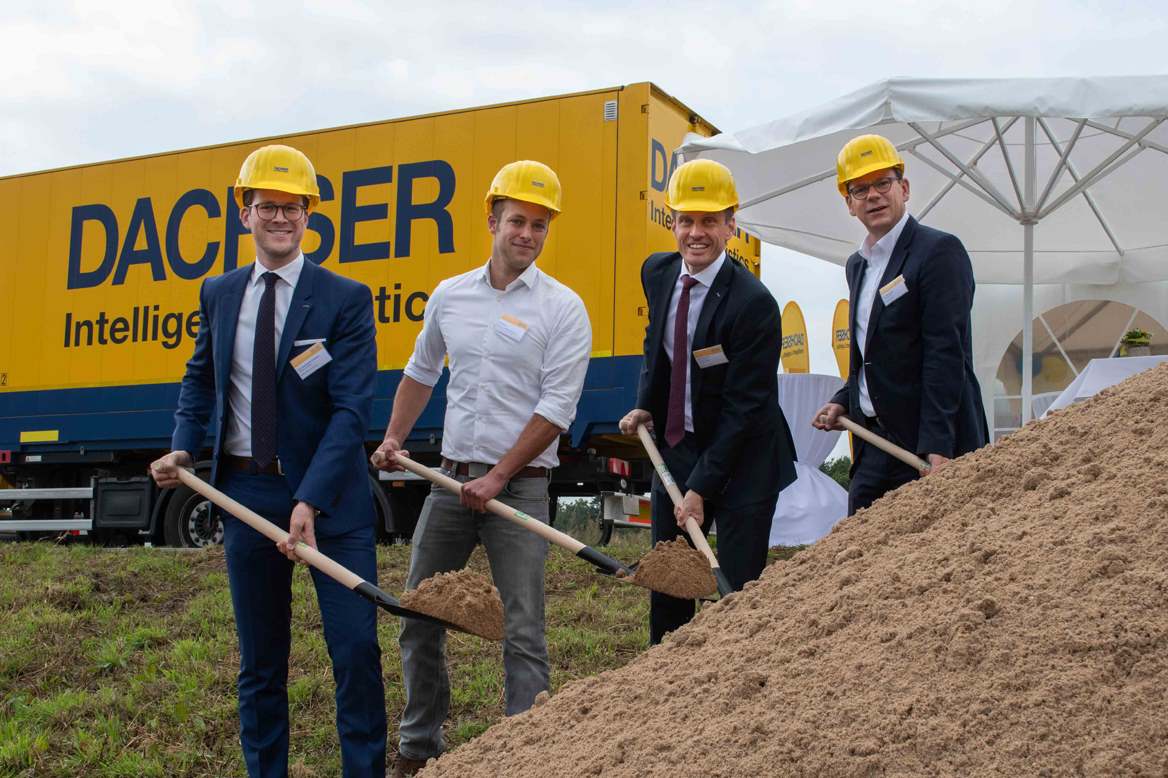 Neumünster/Kempten, August 7, 2019. The logistics provider Dachser is starting the construction of a new branch in Neumünster in the far north of Germany. Dachser is building a transit terminal for industrial goods and food at Isarstrasse on the industrial estate south of Neumünster. This investment is worth some EUR 17.4 million. Construction is expected to be completed by the third quarter of 2020. Around 30 employees will work in the new logistics center.
The groundbreaking ceremony was held on the grounds at Isarstrasse and attended by Dr. Olaf Tauras, Mayor of Neumünster, and Alexander Tonn, Managing Director European Logistics Germany, on August 7, 2019. Tonn is responsible for the German branches of the European Logistics business line (overland transport and contract logistics for industrial goods).
Construction work on the 57,000-square-meter plot of land will start at the beginning of September. The total area of the terminal is 6,700 square meters. Of this floor space, 5,000 square meters will handle industrial goods, with the remaining 1,700 square meters cooled and devoted to food transit. The facility will have 76 docking bays for the loading and unloading of trucks. An office building of 1,000 square meters will complement the terminal.
"Neumünster will become another key terminal for Dachser in the far north of Germany. This new location will connect directly into our extensive European overland transport network," Tonn says, adding that "the new construction complies with the latest standards and offers secure and sustainable jobs in logistics within the region."
Dachser's new terminal in Neumünster will replace its long-standing partner, 17111 Transit Transport & Logistik. In the future, this site will serve almost the whole of Schleswig-Holstein, but for now the collaboration will continue until the Dachser branch has been completed. The new location has good transport connections, situated directly on the B205 highway with direct access to the A7 highway.
About Dachser:
A family-owned company headquartered in Kempten, Germany, Dachser offers transport logistics, warehousing, and customer-specific services in two business fields: Dachser Air & Sea Logistics and Dachser Road Logistics. The latter consists of two business lines: Dachser European Logistics and Dachser Food Logistics. Comprehensive contract-logistics services and industry-specific solutions round out the company's offerings. A seamless shipping network—both in Europe and overseas—and fully integrated IT systems ensure intelligent logistics solutions worldwide.
Thanks to some 30,600 employees at 399 locations all over the globe, Dachser generated consolidated net revenue of approximately EUR 5.6 billion in 2018. That same year, the logistics provider handled a total of 83.7 million shipments weighing 41.3 million metric tons. Country organizations represent Dachser in 44 countries.
For more information about Dachser, please visit www.dachser.com