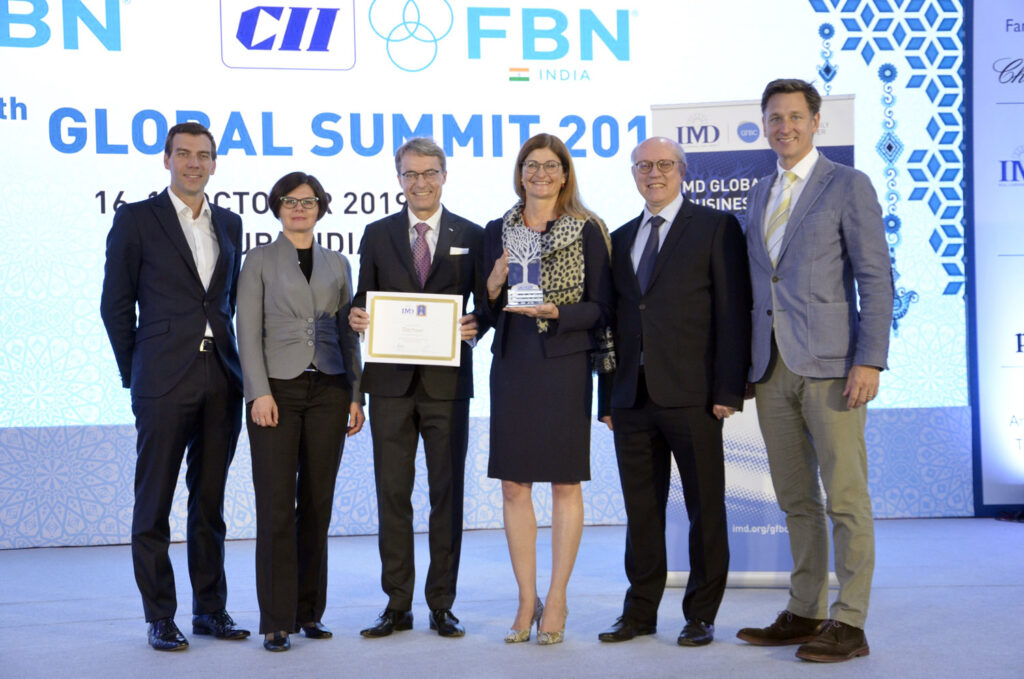 IMD recognized Dachser for robust corporate and family governance structures combined with operational excellence and a focus on quality
Udaipur / Lausanne / Kempten, October 18, 2019. IMD Business School, a top-ranked global business school headquartered in Lausanne, Switzerland, awarded Dachser with the renowned IMD Global Family Business Award. On behalf of the company and the founding family, Bernhard Simon, CEO of Dachser, and Birgit Kastner-Simon, Corporate Director Corporate Marketing, accepted the award at the 30th Summit of the Family Business Network International (FBN-I) in Udaipur, India.
Awarded since 1996, the prize recognizes large, global, and multigenerational family businesses that are exemplary in uniting family and business interests, combining tradition and innovation with clear corporate social responsibility imperatives. A panel of independent experts finally selects the award winner. "Dachser is an outstanding family enterprise that has successfully adopted a comprehensive governance system balancing the influences of the family and the company," commented IMD president Jean-François Manzoni. "Dachser's success is a testament to three generations of family owners who have built up one of the most sustainable family businesses anywhere in the world."
IMD recognized Dachser for its robust corporate and family governance structures combined with operational excellence and a focus on quality. Dachser has stayed true to its core business and continues to stand out through strong values, sustained growth, and a truly global reach. It has also placed significant importance on innovation and sustainability in the area of economics, ecology, and society.
"Quality is always delivered by people. That's why we constantly strive to maintain a harmonious balance between global growth on the one hand and, on the other, the value system and the human dimension of being a family-owned company," explains Bernhard Simon, CEO Dachser SE. "The IMD Global Family Business Award is a sign that we're on the right track. Dachser's success is founded on a clearly defined mission and strong values that we live by every day. This ensures that everyone worldwide is able to understand our long-term strategy, and it puts the company on a secure footing for future generations. Yet another reason this award is very meaningful for me."
About Dachser:
A family-owned company headquartered in Kempten, Germany, Dachser offers transport logistics, warehousing, and customer-specific services in two business fields: Dachser Air & Sea Logistics and Dachser Road Logistics. The latter consists of two business lines: Dachser European Logistics and Dachser Food Logistics. Comprehensive contract logistics services and industry-specific solutions round out the company's range. A seamless shipping network—both in Europe and overseas—and fully integrated IT systems ensure intelligent logistics solutions worldwide.
Thanks to some 30,600 employees at 399 locations all over the globe, Dachser generated consolidated net revenue of approximately EUR 5.6 billion in 2018. That same year, the logistics provider handled a total of 83.7 million shipments weighing 41.3 million metric tons. Country organizations represent Dachser in 44 countries.
For more information about Dachser, please visit www.dachser.com