The family-owned company is investing some EUR 25 million in the construction of a new logistics location
Kassel/Kempten, July 13, 2020. Logistics provider Dachser has started construction on a new branch in Kassel, the economic centre of northern Hesse. Located in the Lohfelden commercial zone, the new transit terminal for industrial goods with adjacent offices is due for completion by summer 2021. In the medium term, the new branch will create roughly 200 jobs.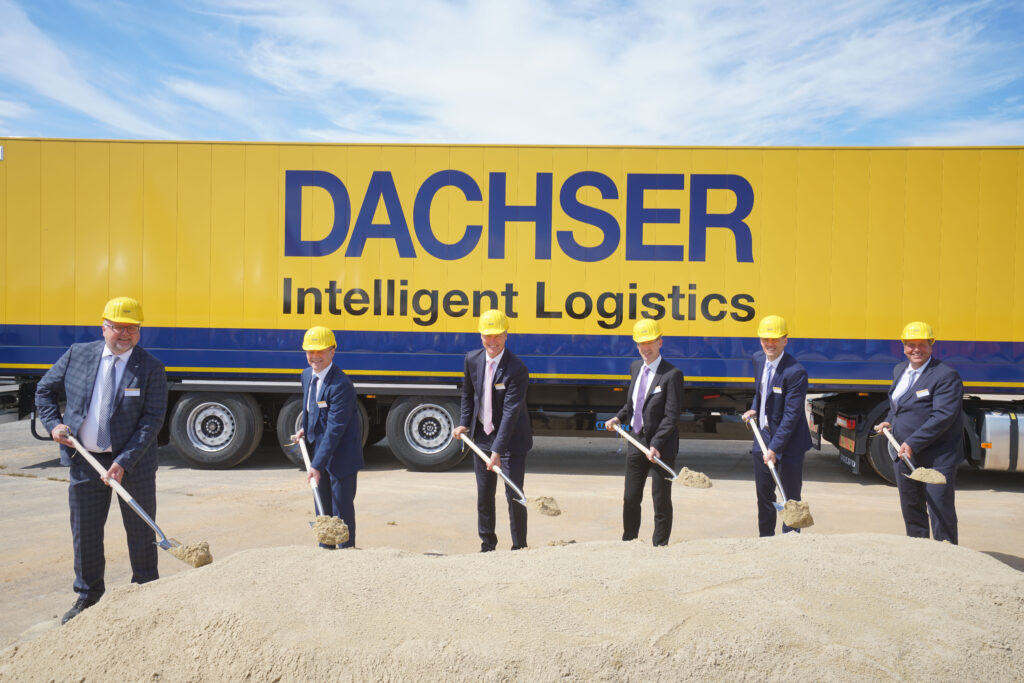 The symbolic groundbreaking ceremony took place today, attended by Dr Alexander Friedrich Wachter, Vice President of the Kassel district government, Norbert Thielen, deputy mayor of Lohfelden, Michael Schilling COO Road Logistics Dachser, and Alexander Tonn, Managing Director European Logistics Germany, who is responsible for Dachser's transport and storage business for industrial goods in Germany.
"Thanks to Dachser's closely integrated logistics network, transports departing from the new Kassel branch will reach all economic centres across Europe within 24 to 48 hours. Dachser customers throughout Europe will benefit from fast delivery times and our consistently high service quality," says Andreas Fritsch, General Manager of Dachser's Ostwestfalen-Lippe logistics centre in Bad Salzuflen, explaining the strategic relevance of the new location. Fritsch will assume responsibility for the new Lohfelden facility in Kassel, which falls under the Bad Salzuflen group; Mathias Oetter will be the local branch manager. A large share of the new branch's customers will come from the region's robust industrial production companies, Fritsch explains.
Dachser's new facility in central Germany is conveniently located at the interchange of the A7, A44, and A49 highways. Construction work on the approximately 78,000 m2 lot in the Lohfelden commercial zone began this April. The transit terminal will have approximately 6,400 m2 of floor space and 78 gates for loading and unloading trucks. A 2,500 m2 office building will be built adjacent to the terminal as well.
The new facility in Kassel rounds off Dachser's own groupage network for industrial goods in Germany and will replace the company's long-standing regional partner Schmelz Transport und Logistik. Dachser will continue working with its trusted partner until building work on the new Dachser branch is completed next year.
About Dachser
Dachser, a family-owned company headquartered in Kempten, Germany, provides transport logistics, warehousing, and customized services in two business fields: Dachser Air & Sea Logistics and Dachser Road Logistics. The latter consists of two business lines: Dachser European Logistics and Dachser Food Logistics. Comprehensive contract logistics services and industry-specific solutions round out the company's range. A seamless shipping network—both in Europe and overseas—and fully integrated IT systems ensure intelligent logistics solutions worldwide.
Thanks to some 31,000 employees at 393 locations all over the globe, Dachser generated consolidated net revenue of approximately EUR 5.7 billion in 2019. That same year, the logistics provider handled a total of 80.6 million shipments weighing 41.0 million metric tons. Country organisations represent Dachser in 44 countries.
For more information about Dachser, please visit www.dachser.com