GEODIS has signed a partnership agreement with Zéphyr & Borée, a French start-up pioneer in low-carbon maritime transport specializing in the design of sail-powered cargo ships. This technological innovation will contribute to the reduction of emissions in the maritime transport of goods.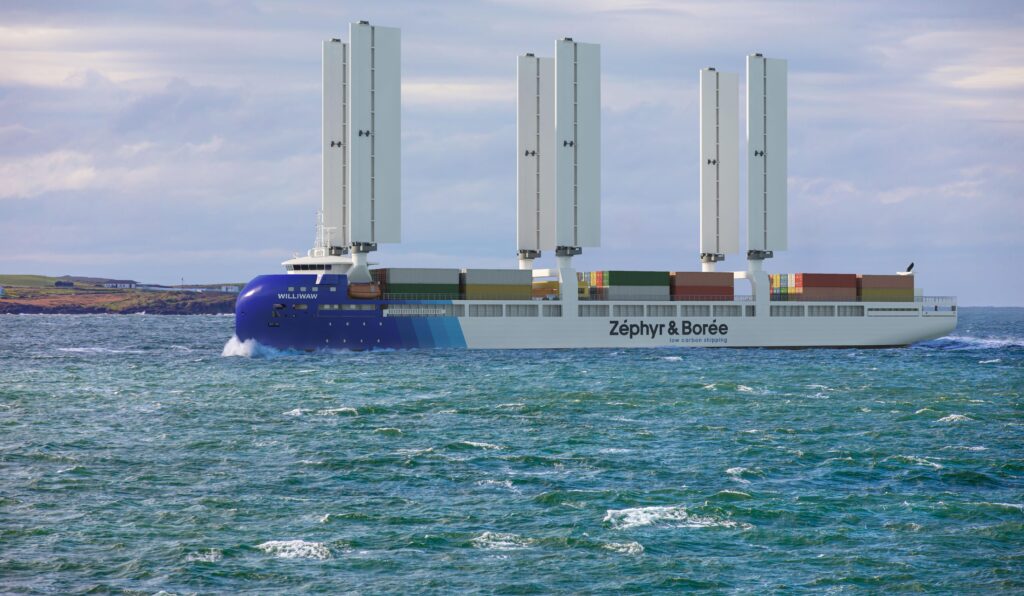 Zéphyr & Borée has chosen Sealogis, a subsidiary of Geodis, as shipping agent for France. As an agent, Sealogis will be responsible for presenting, promoting and marketing the services of Zéphyr & Borée to its clientele of shippers and forwarders. To provide a fully coherent service, Sealogis will ensure that low-carbon land-based solutions are proposed whenever possible for all pre-carriage and post-carriage transportation associated with the Zéphyr & Borée maritime service.
The shipping company, based in Lorient in Brittany, specializes in fitting out low-emission ships. A pioneer in its field, the company designs merchant ships equipped with sails, using alternative fuels to fossil fuels.
Under an agreement with the AUTF (the French freight transport users association), Zéphyr & Borée will launch a container shipping service operating transatlantic routes, starting in 2025. The wind-powered vessels will operate a weekly service between Le Havre, Antwerp and the East Coast of the United States, along with an equivalent service sailing from Mediterranean ports.
This technological innovation will make it possible to halve CO2 emissions while guaranteeing a transit time competitive with that of traditional cargo ships.
Eric Martin Neuville, Executive Vice President, Global Freight Forwarding at Geodis, said: "This commitment to Zéphyr & Borée clearly demonstrates Geodis's desire to support the decarbonization of maritime transport for the sake of the climate. Transporting freight via wind-powered cargo ships is an innovative project that Geodis will propose to its customers to support them in their sustainable performance."
Amaury Bolvin, Managing Director of Zéphyr & Borée, commented: "Achieving the necessary energy transition in maritime transport will require the use of wind propulsion, as in the past. The launch of this transatlantic sailing line will demonstrate this and we believe that it will be the start of a major transition. We are pleased to be working on this project with Sealogis and Geodis, who have been partners of Zephyr & Borée from the outset."
GEODIS – www.geodis.com
GEODIS is a leading global logistics provider acknowledged for its expertise across all aspects of the supply chain. As a growth partner to its clients, GEODIS specializes in five lines of business: Supply Chain Optimization, Freight Forwarding, Contract Logistics, Distribution & Express, and Road Transport. With a global network spanning nearly 170 countries and more than 44,000 employees, GEODIS is ranked world no. 7 in its sector. In 2021, GEODIS generated €10.9 billion in revenue.