GEODIS, a world leader in transport and logistics, announced today that it has acquired the Swiss freight forwarder, ITS – International Transport & Shipping Ltd.
Marie-Christine Lombard, Chief Executive Officer of GEODIS, commented: "Switzerland is home to a wide number of multinational companies that are key GEODIS customers, among them several dynamic members of the pharmaceutical industry. Having acquired ITS, GEODIS is one step closer to its aim of completing a global end-to-end network to serve its customers.
Under the leadership of Massimo Bianco and Javier Sanchez, ITS has successfully developed into a trusted partner and special services expert for its customers. We look forward to welcoming ITS talented management and staff into GEODIS."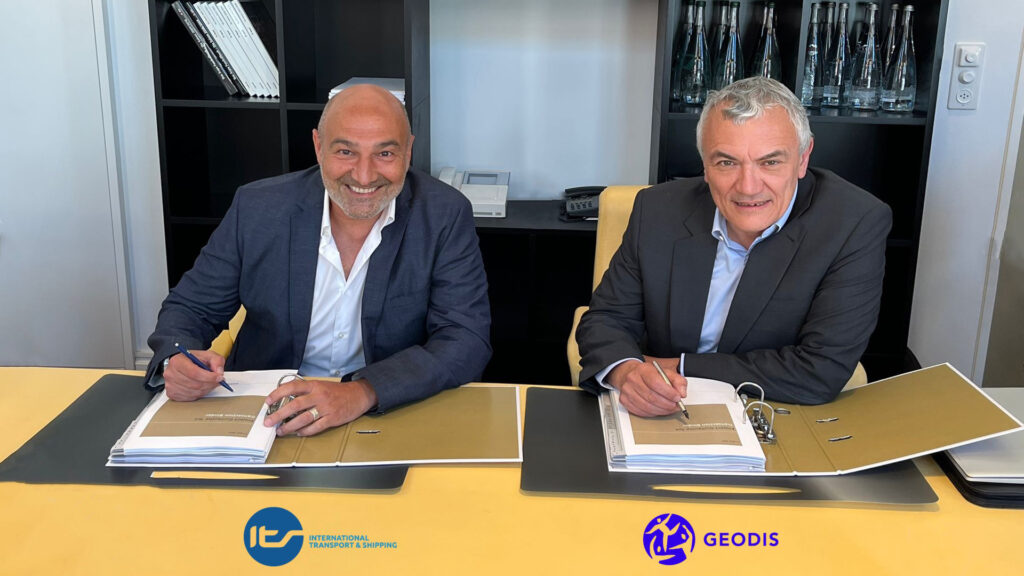 ITS is an independent Swiss freight forwarder, founded in 1992 and headquartered in Reinach, in the canton of Basel-Country. ITS main offering is high-tech "special services", organizing transport and logistics for dedicated projects and outsized equipment for the industrial, automotive and defense sectors. The company also provides standard ocean freight and general cargo services, as well as other ancillary services (oil and food, event logistics, artwork transportation, customs brokerage, etc.). ITS employs 26 people and reported revenues of CHF 58 million in 2022.
Massimo Bianco, Chief Executive Officer of ITS – International Transport & Shipping Ltd., said, "Our aim is to provide an even broader range of services to our customers across an extended geographical market. This move, which combines our existing capabilities with GEODIS' wealth of expertise and global footprint will help achieve that goal and assist all customers in navigating the complexities of an ever-changing supply chain environment. We are therefore delighted to be joining GEODIS, with whom we share an ambition to constantly grow our business and that of our customers."
ITS will join the GEODIS Global Freight Forwarding line of business and will report into the Region EUROPE.
GEODIS übernimmt ITS – International Transport & Shipping Ltd. und baut sein Speditionsangebot in der Schweiz aus
GEODIS, einer der weltweit führenden Unternehmen im Transport- und Logistikbereich, gab heute die Übernahme des Schweizer Spediteurs ITS – International Transport & Shipping Ltd. bekannt.
Marie-Christine Lombard, CEO von GEODIS, erklärte dazu: "Zahlreiche multinationale Unternehmen, die wichtige GEODIS-Kunden sind, haben ihren Sitz in der Schweiz. Unter ihnen sind auch einige bedeutende Akteure aus der Pharmaindustrie. Mit der Übernahme von ITS ist GEODIS seinem Ziel, seinen Kunden ein weltweit lückenloses Netzwerk anzubieten, einen Schritt näher gekommen. Unter der Führung von Massimo Bianco und Javier Sanchez hat sich ITS erfolgreich zu einem bewährten Partner und spezialisierten Experten für seine Kunden entwickelt. Wir freuen uns darauf, das erfahrene Management-Team und die talentierten Mitarbeitenden von ITS bei GEODIS willkommen zu heißen."
ITS ist ein unabhängiger, 1992 gegründeter, Schweizer Spediteur mit Hauptsitz in Reinach im Kanton Basel-Landschaft. Das Unternehmen bietet hauptsächlich spezialisierte Dienste für den High-Tech-Bereich an. Dabei geht es insbesondere um die Organisation von Transport und Logistik für dedizierte Projekte und überdimensionale Ausrüstung für die Industrie, den Automobilsektor und die Verteidigungsbranche. Das Unternehmen bietet auch standardmäßige Seefracht- und allgemeine Frachtdienstleistungen sowie sonstige Zusatzleistungen (Öl und Lebensmittel, Veranstaltungslogistik, Kunsttransporte, Zollabfertigung usw.) an. Insgesamt beschäftigt ITS 26 Mitarbeitende und meldete für das Jahr 2022 einen Umsatz in Höhe von 58 Millionen CHF.
Massimo Bianco, CEO von ITS – International Transport & Shipping Ltd., sagte: "Unser Ziel besteht darin, unseren Kunden in einem größeren geografischen Markt ein noch breiteres Spektrum an Dienstleistungen bereitzustellen. Mit der Übernahme werden unsere bestehenden Fähigkeiten durch die umfangreiche Kompetenz von GEODIS und dessen weltweite Präsenz ergänzt. Dieser Schritt wird dazu beitragen, unser Ziel zu erreichen und wird alle Kunden unterstützen, die komplexe Welt einer sich ständig ändernden Lieferkettenumgebung zu bewältigen. Wir sind daher sehr glücklich, nun ein Teil von GEODIS zu sein. Mit diesem Unternehmen teilen wir unser Bestreben, unser Geschäft wie auch das unserer Kunden kontinuierlich auszubauen."
ITS wird sich dem Geschäftsbereich GEODIS Global Freight Forwarding anschließen und an die Region EUROPE berichten.
GEODIS – www.geodis.com   
GEODIS is a leading global logistics provider acknowledged for its expertise across all aspects of the supply chain. As a growth partner to its clients, GEODIS specializes in five lines of business: Supply Chain Optimization, Global Freight Forwarding, Global Contract Logistics, Distribution & Express, and European Road Network. With a global network spanning nearly 170 countries and more than 49,400 employees, GEODIS is ranked no. 6 in its sector across the world. In 2022, GEODIS generated €13.7 billion in revenue. GEODIS is a company owned by SNCF group.