Kawasaki Kisen Kaisha, Ltd. ("K" LINE), TIS Inc. ("TIS") and Miotsukushi Analytics Inc. ("Miotsukushi") are pleased to announce that we have jointly developed a draft survey application. The application is designed to use artificial intelligence (AI) to recognize the water surface and the draft mark from the image captured with a smartphone and to display the accurate draft level with the impact of waves removed on the screen to help accurately measure the draft*1. At the end of July, the three companies jointly filed a patent application for this newly developed application.
The draft is measured to calculate the weight of cargo loaded onto dry bulk carriers. Today, it is done by crew members and surveyors using the naked eye. It is possible to survey the draft with the human eye. However, it is done at the anchorage, which in some ports may be susceptible to waves. There have been cases where draft measurements even by experienced maritime professionals display a greater margin of error than expected.
The jointly developed automatic draft survey application makes use of the "AI and data analysis service" offered by TIS and Miotsukushi and combines smartphones with the AI to supplement draft measurement that traditionally depended on the experience of maritime professionals with the AI. That helps equalize the degree of safety in navigation and cargo operations and maximize the cargo transportation volume.
At "K" LINE, digitalization is underway as a functional strategy for realizing the business strategy in the medium-term management plan*2 announced in May 2022. With the use of data and digital technologies, "K" LINE will enhance the core values of safety, environmental conservation and quality in a bid to boost its competitiveness and corporate value.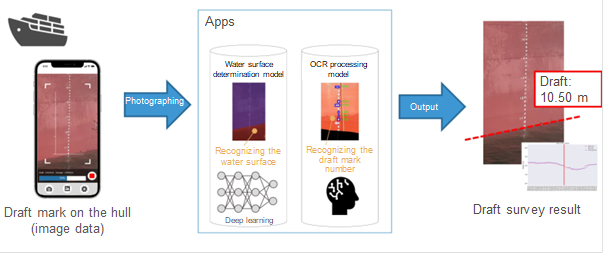 *1:The vertical distance from the bottom of the hull to the water surface when the vessel is afloat
*2: Medium-term Management Plan (announced on May 9, 2022)
https://www.kline.co.jp/en/ir/management/strategy.html
Reference
DX Strategy 2023 (announced on December 22, 2022)
https://www.kline.co.jp/en/sustainability/dx_strategy.html
About TIS Inc. (https://www.tis.com/)
TIS Inc., a member of TIS INTEC Group, is a business partner to more than 3,000 companies in various sectors, including finance, industry, public services, and distribution services. It provides IT to support growth strategies, tackling various management challenges faced by its customers. Leveraging the industry knowledge and IT development capabilities it has cultivated over more than 50 years, TIS aims to realize a prosperous society by providing IT services that have been cocreated with society and customers in Japan and Asian region.
About Miotsukushi Analytics Co., Ltd. (https://mioana.com/)
Miotsukushi Analytics is a consulting firm that specializes in data analysis that combines statistics, machine learning, data mining, mathematical optimization and many other approaches with a focus on solving business problems. As a group of specialists that bring value to big data, it has an advantage not only in analytical processes but also in creating benefits for clients through the application of data sciences to business.
Features of the application
A model of high-accuracy detection of the draft mark and the water surface with the use of deep learning technologies.
A coordinate computing algorithm developed for calculating the draft through image detection.
Finally calculating an accurate draft through different approaches including leveling of continuously measured draft levels.
Designed for smartphones, the app can be used at sea where Internet access is unavailable since the processing is completed locally at the terminal.