Dachser has opened its new Copenhagen logistics centre on a 70,000-square-metre site in Hvidovre. The internationally operating logistics provider invested around EUR 20 million in the head office of Dachser Nordic A/S where it employs a staff of 95.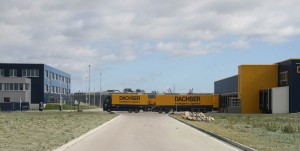 Click image to download full size
Dachser managing director Michael Schilling and the managing director of Dachser Nordic A/S, Finn Skovbo Pedersen, welcomed numerous customers as well as guests from the worlds of politics and business.
Following the ground-breaking ceremony in June 2009 and the start of operations in mid-April 2010, the new facility has now been officially opened with a festive ceremony. The logistics centre has a 4,100-square-metre transshipment hall for industrial goods with 41 loading bays. The administrative and technology building covers 3,000 square metres. The branch is quickly reached via the E20 motorway and is just 13 kilometres from the centre of Copenhagen.
"This investment will strengthen our presence in Denmark and Scandinavia. Our customers appreciate the combination of regional competence and a closely meshed pan-European logistics network with intercontinental connections," says Dachser managing director Michael Schilling.
Dachser is represented in Hvidovre through its European Logistics and Air & Sea Logistics business segments. As a major intersection in Dachser's pan-European network for groupage system services, the logistics provider serves 13 national and international destinations via direct services from Hvidovre on a daily basis.
"We are one of only a few logistics providers in Denmark with an area-wide distribution system, enabling us to offer our customers a significant competitive advantage," Pedersen says.
Attractive Employer
The Dachser family enterprise currently employs a staff of 95 at its Hvidovre location and nearly 200 in the country as a whole. Training is given high priority. Every year, Dachser in Denmark trains ten young people as qualified specialists in forwarding and logistics services and warehouse logistics specialists. "Well-trained, qualified and motivated staff are the decisive success factor in today's logistics," Pedersen says.
In 2009, Dachser generated total revenue of EUR 3.2 billion. 17,500 staff working in 306 profit centres worldwide handled 41.8 million consignments weighing a total of 29.4 million tonnes.