The fleet continues to grow: German shipping and logistics group Harren & Partner is proud to announce the acquisition of the jack-up vessel Thor. The fleet now counts four highly sophisticated offshore ships.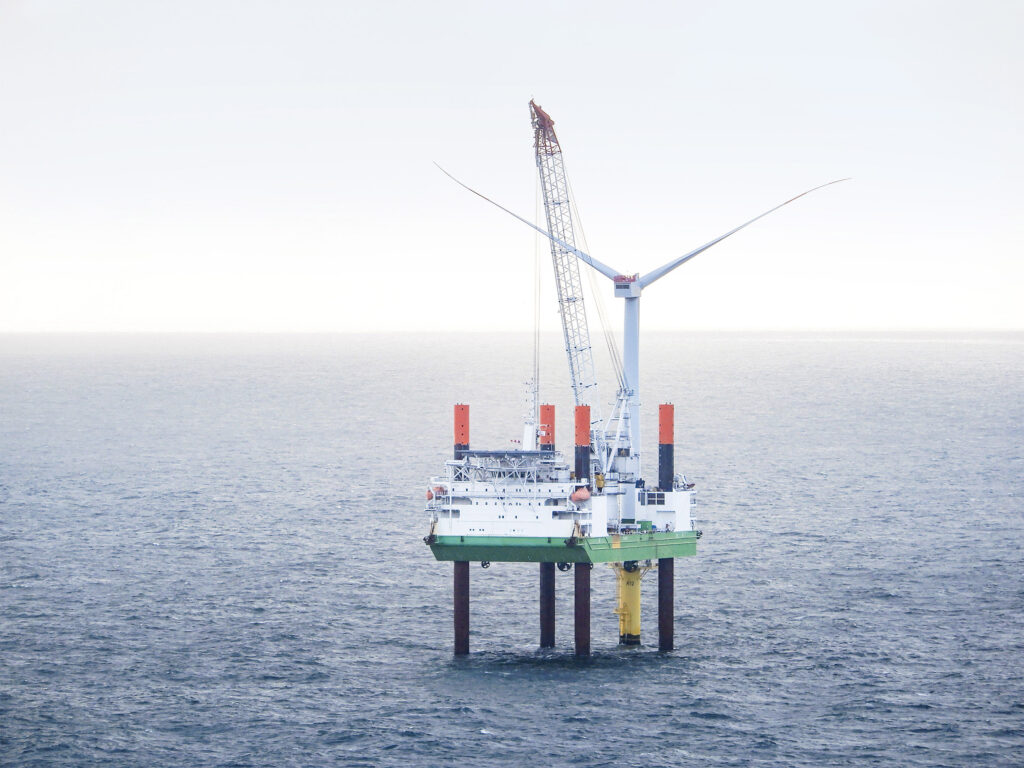 Thor is a 2010-built dynamic positioning (DP2) jack-up crane vessel ideal for maintenance projects at offshore wind energy plants as well as wind turbine installations. With a 500-t capacity, a high-outreach offshore crane and a fully equipped accommodation block for up to 56 people, this highly versatile vessel also has a strong track record. Thor is 107.82 metres long and sails under the Madeiran flag.
Heiko Felderhoff, Managing Director of the Harren & Partner Group, described the new addition: "We are very happy that we were able to finalise this acquisition. Thor is a modern ship with a flexible economic design. A valuable addition to our fleet, she underlines our growth ambitions in the rapidly expanding market for offshore wind energy."
The Harren & Partner fleet now consists of four offshore construction units: The DP2 offshore construction and heavy lift vessel Mexican Giant, the DP3 offshore construction heavy lift twin-gantry catamaran VB-10,000 (US flag, Jones Act compliant) and the two jack-up vessels, Wind Lift I (DP1) and Thor.
The fleet is designed to provide full turnkey major component exchanges for the offshore wind industry. Together with its partners, OWS Off-Shore Wind Solutions GmbH and Wind Multiplikator GmbH (co-investor) – also part of the ARGE N1 joint venture – Harren & Partner will deploy Thor for major component exchange services at the Nordsee One wind farm. Thor will also support other wind farms later in the year.
Another crucial partner for the success of this project is Elbe Financial Solutions (EFS). Sören Bibow, CFO of the Harren & Partner Group, emphasised: "We would like to say a big thank you to our funding partner Elbe Financial Solutions. We are proud and grateful to work with EFS on this key project. Their customer focus and professionalism are absolutely impressive."
Dr. Martin Harren, CEO of the Harren & Partner Group, underlined the importance of the renewables sector for the entire group: "Wind energy has been a cornerstone of our business in recent years, and we are determined to further expand and strengthen our contribution to the ongoing energy transition. By providing maintenance and installation services, we bring a comprehensive range of services to the renewable energy market while meeting the highest standards and expectations of these clients."
About Nordsee One: Nordsee One is an offshore wind farm in the German part of the North Sea. Commissioned in 2017, it has a nameplate capacity of 332 MW. Nordsee One uses 54 Senvion 6.2M126 wind turbines that produce 1,200 GWh of electricity annually.
For more information about Nordsee One, please go to www.nordseeone.com
About Harren & Partner: The Harren name is synonymous with over 30 years of experience and expertise in the ever-changing world of shipping. Founded by Captain Peter Harren in Bremen in 1989, the shipping group employs around 400 people ashore and about 3,000 crew members. Today, the privately owned business is a diverse group of companies with strong brands: SAL Heavy Lift, Jumbo-SAL-Alliance, SAL Engineering and Intermarine are four of the world's leading companies in the maritime transport sector for heavy lift, wind and project cargo. Combi Lift is specialised in multimodal door-to-door and turnkey forwarding concepts, while Harren Tankers and Harren Bulkers are responsible for the commercial and technical management of the group's tankers and bulkers fleet.
Harren & Partner also provides high-quality ship management services to in-house and international third-party clients. The fleet currently consists of 82 units – heavy lift carriers, bulkers, tankers, dock ships, container vessels, tugs, barges and offshore vessels. With specialised teams for the different types of ships and strong shipping DNA in its business culture, Harren & Partner guarantees the highest standards of quality – both ashore and at sea.
For more information about Harren & Partner, please go to www.harren-partner.de
About Wind Multiplikator GmbH (WM): Wind Multiplikator GmbH is based in Bremen and was founded by Michael Munder-Oschimek in 2014. Wind Multiplikator operates mainly in the offshore wind energy sector and specialises in operational, project and planning management, consulting and engineering services. WM is currently supporting two offshore wind farms as a full-service provider.
For more information about WM, please go to: www.windmultiplikator.de
About OWS Offshore Wind Solutions GmbH (OWS): As a service provider in the onshore and especially offshore sector, OWS considers all life cycles of a wind turbine. The broad range of services includes the construction and commissioning of wind farms as well as their maintenance, repair and refitting. Conveniently located in Emden, close to the port and the railroad network, OWS manages the logistics challenges of the industry just as effectively as the technical tasks. A total of over 40,000 m² of hall space and 28,000 m² of storage space are available for storage and transport logistics, but also to manufacture and repair nacelles and blades. OWS also has the technical expertise to assist customers with engineering and prototype solutions. The range of services includes a control room where OWS can operate your wind farm safely 24/7, as well as the support in occupational HSE and quality management.
For more information about OWS, please go to: www.offshore-wind-solutions.de