Hamburg, 13 March 2023 – HPC Hamburg Port Consulting (HPC) is pleased to announce that it has performed the technical due diligence for Hapag-Lloyd as a basis for investment in a share of J M Baxi Ports & Logistics Limited (JMBPL). The participation involves 12 port terminal & logistic facilities in India and enhances Hapag-Lloyd's engagement in the terminal sector in attractive growth markets.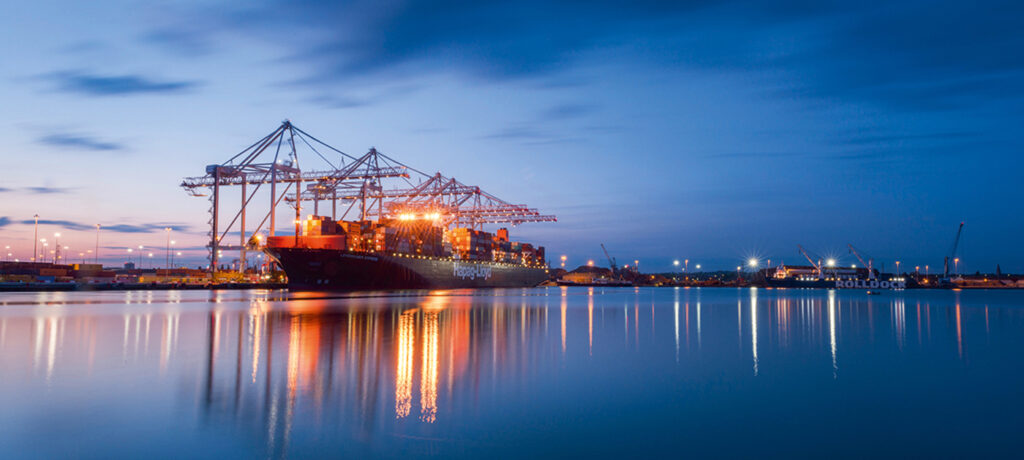 JMBPL provides broad industry-focused logistics sector coverage to cater to future growth opportunities. Its diverse portfolio includes infrastructure, technology, logistics, and integrated services, enabling physical and digital coverage of India-based supply chain. Through its participation in JMBPL, Hapag-Lloyd aims at further strengthening its position in the attractive Indian market and jointly developing new business opportunities.
As an investor, Hapag-Lloyd wished to obtain an independent opinion from an internationally recognized consultant regarding the feasibility of an investment in the development of JMBPL. HPC was commissioned to support the participation process by conducting on-site inspections of the port facilities and carrying out technical due diligence. This provided sound insight to support decision making in the investment process.
"Terminal investments help us to actively influence an essential part of the value chain, determining the service level and quality for our customers and supporting our access to key markets. To conduct thorough due diligence for such an investment we relied on a partner who knows terminal operations inside out. HPC has thoroughly investigated the condition of the JMBPL terminals, appraised the investment levels necessary and assessed post-merger potentiality. HPC is a trusted partner for us, and we are very happy with the important role they played to support this transaction", said Lisa Radke, Head of Global Terminal & Transport Procurement at Hapag-Lloyd.
As part of its comprehensive due diligence, HPC conducted an operations and technical assessment, including feasibility and risk analysis, as well as equipment and civil engineering assessments.
"As a global port consultancy with roots in terminal operations, we can assist our clients with advice on potential transactions from an operational, commercial, and technological point of view," said Suheil Mahayni, Managing Director at HPC. "Close cooperation with Hapag-Lloyd's team was crucial to the success of this assessment project. The open and transparent discussions with all parties created an atmosphere of trust from the beginning. This has enabled us to deliver a thorough valuation of the terminal operator and its assets for our client in a short period of time."
With its operational expertise and holistic approach, HPC is well-positioned to help clients navigate complex acquisitions and make informed investment decisions.
For more information on port advisory services, please visit the website:
www.hamburgportconsulting.com
HPC führte technische Due Diligence für Hapag-Lloyd Beteiligung an J M Baxi Ports & Logistics Limited durch
Hamburg, 13. März 2023 – HPC Hamburg Port Consulting (HPC) hat für Hapag-Lloyd die technische Due Diligence als Grundlage für eine Beteiligung an der J M Baxi Ports & Logistics Limited (JMBPL) durchgeführt. Die Beteiligung umfasst 12 Hafenterminals und Logistikanlagen in Indien und erweitert Hapag-Lloyd's Engagement im Terminalbereich in attraktiven Wachstumsmärkten.
JMBPL bietet eine breite, branchenorientierte Abdeckung des logistiksektors, um zukünftige Wachstumschancen zu nutzen. Das vielfältige Portfolio umfasst Infrastruktur, Technologie, Logistik und integrierte Dienstleistungen, so dass die physische als auch digitale Abdeckung der indischen Lieferkette ermöglicht werden kann. Durch die Beteiligung an JMBPL will Hapag-Lloyd seine Position auf dem attraktiven indischen Markt weiter stärken und gemeinsam neue Geschäftsmöglichkeiten entwickeln.
Um eine unabhängige Meinung eines international anerkannten Beraters über die Machbarkeit einer Investition in die Entwicklung von JMBPL einzuholen, hat Hapag-Lloyd. HPC beauftragt, den Beteiligungsprozess durch die Besichtigung der Hafenanlagen vor Ort und die Durchführung einer technischen Due Diligence zu unterstützen. Dies lieferte fundierte Erkenntnisse für die Entscheidungsfindung im Investitionsprozess.
"Terminalinvestitionen helfen uns, einen wesentlichen Teil der Wertschöpfungskette aktiv zu gestalten. Sie wirken sich positiv auf das Dienstleistungsniveau und die Qualität für unsere Kunden aus und unterstützen uns zugleich, wichtige Märkte zu erschließen. Um eine gründliche Due-Diligence-Prüfung für diese Investition durchzuführen, haben wir uns auf einen Partner verlassen, der den Terminalbetrieb sehr gut kennt," sagt Lisa Radke, Leiterin des Bereichs Global Terminal & Transport Procurement bei Hapag-Lloyd und ergänzt: "HPC hat den Zustand der JMBPL-Terminals untersucht, das erforderliche Investitionsniveau abgeschätzt, das Potenzial einer erfolgten Beteiligung bewertet und sich dabei als zuverlässiger Partner erwiesen. Wir sind mit dem Support von HPC bei dieser Transaktion sehr zufrieden."
Im Rahmen der umfassenden Due-Diligence-Prüfung führte HPC eine betriebliche und technische Bewertung durch, einschließlich einer Machbarkeits- und Risikoanalyse sowie einer Bewertung des Terminal-Equipments und des baulichen Zustands.
"Als globales Hafenberatungsunternehmen mit Wurzeln im Terminalbetrieb können wir unsere Kunden bei potenziellen Transaktionen aus betrieblicher, kommerzieller und technologischer Sicht beraten", so Suheil Mahayni, Geschäftsführer von HPC. "Die enge Zusammenarbeit mit dem Team von Hapag-Lloyd war entscheidend für den Erfolg dieses Bewertungsprojekts. Die offenen und transparenten Diskussionen mit allen Beteiligten schufen von Anfang an eine Atmosphäre des Vertrauens. Dadurch waren wir in der Lage, in sehr kurzer Zeit eine umfassende Bewertung des Terminalbetreibers und seiner Vermögenswerte für unseren Kunden zu erstellen."
Mit seiner operativen Expertise und seinem ganzheitlichen Beratungsansatz ist HPC gut aufgestellt, um Kunden bei komplexen Akquisitionen zu unterstützen und fundierte Investitionsentscheidungen zu treffen.
Weitere Informationen über Hafenberatungsdienste finden Sie auf der Website: www.hamburgportconsulting.com